Welcome to the Corner House Bed and Breakfast Blog where we will bring you details on upcoming events and allow us to let our guests know what is happening here in North Norfolk and beyond.
May and June have been a busy and exciting start to our new business. Guests have been giving us positive feedback on their experience at Corner House Bed and Breakfast; we are introducing cafeteria coffee into the rooms along with varied selection of drinks. We endeavour to take feedback given to us and hope that the individual attention will give a Bed and Breakfast feel in a hotel styled environment – nothing is too much trouble.
North Norfolk is busy in the coming months with the Cromer End of Pier Show starting on 21st June until 20th September; this is a mix of live variety with an all new cast featuring top comedians, specialty acts and the famous Seaside Special dancers. Join in the singing with West End and Broadway show numbers, laugh at the comedy and tap your feet to the dance routines. For prices and more details go to cromer-pier.com and book now for the best live show in North Norfolk.
Cromer Carnival is taking place from 16th – 22nd August – there is a display with the amazing Red Arrows. This is a perfect time to come and enjoy the delights of Cromer and take part in the carnival atmosphere created around the town and surrounding areas.
Enjoy the 1940's – There is a weekend in September 20th and 21st dedicated to this era, soak up the atmosphere and nostalgia of the 1940's, ride on the North Norfolk Poppyline Steam train from Sheringham to Holt -'This weekend brings the home front to vivid life and the town of Sheringham joins in with gusto'.
Bookings are now being taken for all these events.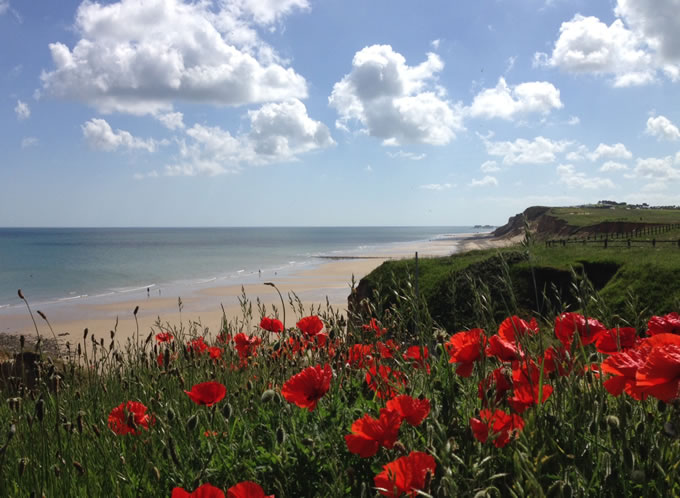 This was taken by Louise at 'Seaview Beach Café and Shop' which is a typical view from the stunning cliffs looking out over the beach of West Runton towards Cromer pier.