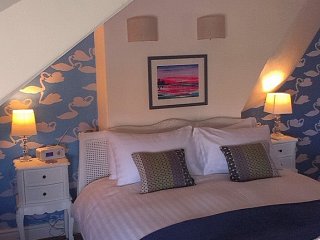 Our first guests of 2015 have just left after a weekend in the newly refurbished 'The Cromer' here at Corner House Bed and Breakfast, West Runton. They enjoyed the stay so much that they have requested a room for the Easter period which is fast approaching, which means the opening of the Tearoom @ Corner House is nearly upon us. This will be a new part to our business and will be offering loose leaf tea, homemade cakes and artisan coffees from our espresso machine in the Tearoom.
Corner House Bed and Breakfast has under gone some refurbishment work with 'The Cromer' and 'The Cavaliero' having added extras to the décor. The house has been given a new lease of life and we looking forward to a busy year ahead with the local caravan and campsites opening over the coming weeks and various events in the coming months – such as Crab and Lobster festival in Cromer and Sheringham (15-17May) and of course the Summer Show on the Cromer pier starting In June 2015. Cromer pier was crowned Pier of the Year 2015 by the National Pier Society and is home to the last end of the pier show in Europe.
Recently here in West Runton it was reported that there had been a rare sighting of a white tailed eagle by a local birdwatcher that had photography this beautiful bird as it flew across West Runton – flying down from Sheringham golf club. It was then reported to be flying south towards Hickling after it had flown west to east along the coast. This shows that West Runton can be a great area for any bird watchers all year round.
Lastly, Walk Norfolk have informed us via our Twitter/Facebook page that the new Norfolk Coast Path stretches from Beeston Bump to Cromer, working well with the Bittern Line and having plenty of places to stop at either end, including The West Runton Beach café which reopens on Monday 23rd March for the season. So get those walking boots on and try out some of the sights that North Norfolk Coast has to offer.
Daron / Shaun